As a kid some of my tastebuds belonged in an asylum. My dad gave me a spoonful of Geritol once a week and I loved it. I also ate my liver, broccoli, and lima beans happily.
Yeah, WTF.
A couple of weeks ago I was prompted by those tastebuds to seek out liver. It had been a couple years since I had any.  So I went to the only place that served it, Church's Chicken.  The one I went to did not have it. But a lady there said the one of Hwy 50 did.  Well I couldn't get to that one for my lunch time so I passed on it that day.
A couple weeks later the taste buds said, "Hey you never got us that liver. We haven't forgotten."
So this weekend I made a special trip to find some.  I tried calling ahead to see if they had liver but no one was answering at the two stores. So I just drove out to the one on Hwy 50 , and they didn't have any. The lady at the counter replied when I asked for liver, "Honey of we had some I'd be eating it."  She was very nice and told me to go to the one one Silver Star road and gave me directions.
After 15 more minutes of driving I realized this is the same place I visted 2 years ago! So I hopefully waited behind 4 people to ask.
They had them! As I waited for them the guy ordering next to me said "Did you say liver? I didn't see that on the menu."
I said they don't list it, you have to ask. He said he would remember that next time.
About 5 minutes later as I was paying three ladies came in and found out what I ordered and excitedly asked questions about it. We talked about it and they also ordered some.
Driving home with my happy little package of liver I realized I had taken a very long way around making a 20 min trip into a 45 min one.
—————————————————————–
Also finished up a gift for Rosie.  I meant to get to this 2 months ago as I had given her guy an apron made of fabric of Flames and Motorcycles on it.  He called the the "Apron of Vengeance"
This is her sweet little apron. She likes red.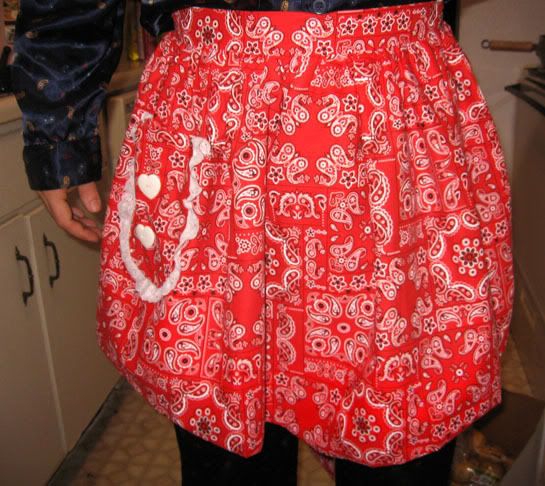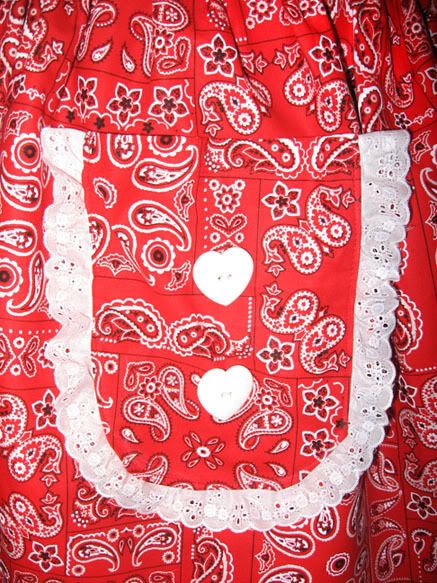 The pocket detail has cute little scalloped cotton lace with cherries on it. Also some retro looking heart buttons.
Thank you Peter for modeling.