::has Totally Rad Show playing the the background::
I have been wondering for a while now about letting my hair go natural. In the past I said no due to managability, then time, and then looks.  I used to play sports and I just wasn't up to dealing with it in high school and college. Then I was convinced it wouldn't look good, especially after trying extensions last year. Long hair balances out my prominent features.
I know a girl who people used to mistakenly think was me sporting afro puffs. She looked cute which got me thinking about it again. Also with the steam punk thing coming up it sounds appealing.
Problem is I don't know the first thing about it. I don't know how to manage hair that is half relaxed and half going natural. I don't know if it will look horrid or if it's a waste of time.  So many questions and I can't find a reliable source on the intarwebs to help.
Also scary is not knowing what my hair behaves like naturally. It's been relaxed for 17 years. I don't know what's lurking to grow out of my scalp. Is it wavy, fro like, bunchy, fun to play with or impossible?
——————————-
In other news…
I cleaned out my bathroom cabinet. It was so freeing!  I threw out so much stuff and put away things I don't use often.  I should have taken before and after pics if I had known it would look so good.
Word to those feeling blah, throw away your crap.
I've also been working on the bathroom decor. This is what I bought 3 months ago: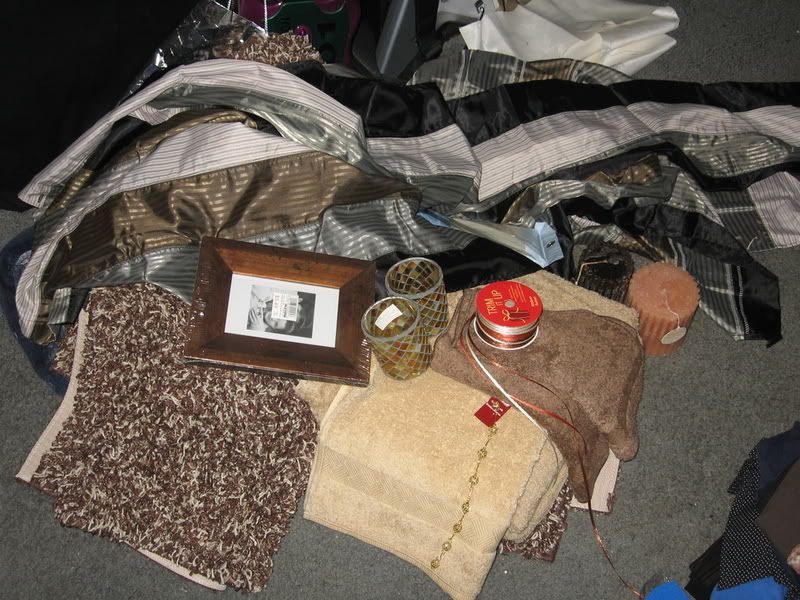 The look is of an amber artdeco feel.  Again, after the black of the old bathroom was gone it felt like a new place. I'm still looking for a large piece of art and some iron work. But I'll take pictures if I finish it up.
I'm also tossing my old plants. My garden looks like hell. So they all have to go, with the exception of a little juniper and aloe plant.
Something arrived in the mail a few days ago. I'll show it off in another post soon…