A couple of weeks ago I was surfing ebay (something I haven't been doing for a long time) and I like to look at cosplay while minus-ing out  hentai, alchemist, doll, naruto, bleach, socks, zentai, wigs, necklace, inuyasha.  If you don't take all those things out you will end up with 43573947 pages of the same bleach costume over and over.
Then I went to Fan+Friend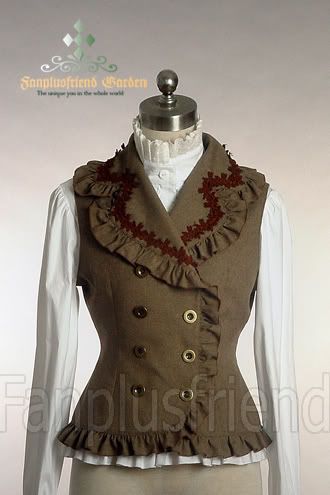 Now normally I am not partial to frilly cause it just doesn't work for me. But I stared at this… and I left it up so the next day I saw it….and the next….
Yup, I want it.
I've even made up a reason I need it. Steam Punkery for Dragoncon next year. My friend Allen is thinking about it and all of us are shoving him towards it cause we want to do it too.
addendum: Yeah I know Fan+friend is hit or miss with their customer service. But it's only $70 with S&H. I think I might chance it.  I like it that much and it will cost that much for my time and materials to make it anyways. Besides, I sew, so I can fix it.